Our good pal Parker is going in for his second serious surgery for his "pull through". Tammy explains it better on her blog....I am thankful to not have to know all the medical terms, but Tammy is an expert!

So now, if you can, please stop by Parky's blog to leave a prayer for a good surgery, healthy healing and because of their horrible financial situation due to their insurance and hospital nightmare....

Please drop a donation for some disposable diapers and gas money would ya? Parky would thank you so very much! Go to Parkers Blog and click on the DONATE button on the right side.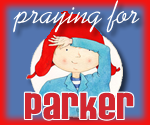 hugs Tammy and Parker, and please keep us posted!